T
HE ULTIMATE BC HOME + GARDEN SHOW CHECKLIST
Spring is right around the corner and you know what that means, The BC Home + Garden Show is back! From paint colour to furniture, landscaping to functionality, the BC Home + Garden Show has everything you need to inspire a spring home-reno-refresher for both your indoor and outdoor spaces. Doors at BC Place Stadium are open starting today, Wednesday, February 21st at 4:00pm until Sunday, February 25th at 6:00pm. With all the Canada's biggest names and home improvement experts, you won't want to miss out on exploring this year's show. We're sure you'll be inspired to fall in love with your space again, and Make it Yours.
With so much to see over five days, we've compiled a guide of insider tips with all our must-see and do advice to help make sure you don't miss a thing! Read below and piece together your game plan for the show!
Know Before You Go 
Before you get ready to hit the show floor, be sure you have your BC Home + Garden Show tickets in hand. Save yourself $3 (and some time!) by buying your tickets online courtesy of RenovationFind.com.
Now that you're set, make your way to BC Place (777 Pacific Boulevard, Vancouver BC). If you're driving to the show, there is parking available at the various lots surrounding BC Place Stadium. Check out the BC Place Stadium parking list for more details, including price points and suggested lots.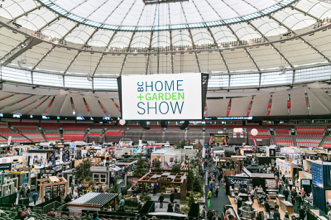 See
You're here! When you step onto the show floor at #BCHGS18, with so much happening, don't forget to take a deep breath before you start exploring. We suggest starting at the Main Stage, presented by the Vancouver Sun so you don't miss out on seeing your favourite HGTV Canada stars while they're in town! Must-see presentations include Home to Win's Carson Arthur, celebrity contractor Kenny Gemmill of Love it or List it Vancouver, Danielle Bryk of Bryk House & Home to Win, and Brian McCourt & Sarah Keenleyside from Backyard Builds and Home to Win.
Make sure to set aside time to see the DIY Queen herself, Leigh-Ann Allaire Perrault and hear space saving tricks from the crafty Mend and Make Fabulousauthor Denise Wild. Top local designers are also on the roster sharing their design and home renovation advice including Jamie Banfield, of Jamie Banfield Design, Sarah Gallop, of Sarah Gallop Design and Kathy Yuen, of Phase One Design. After catching a few presentations you'll be inspired to get a jump start on your next home project!
If you stick around after their presentations you might even be able to grab a selfie with Brian & Sarah during their meet and greet. Brian & Sarah's presentations are on Friday February 23rd at 7PM and Saturday February 24th at 1PM.
You can also meet Danielle after each of her stage presentations on both Friday, February 23rd at 6PM and Saturday February 24th at 2PM.
Always wanted to say hello to Love it or List it Vancouver's celebrity contractor Kenny Gemmill? Now's your chance! Catch him after his presentations on Saturday February 24th at 3PM and Sunday February 25th at 2PM for his meet and greet.
When: February 22 – February 25, see the full Main Stage schedule
Where: Main Stage presented by the Vancouver Sun
Experience 
After canvassing the show floor, do we ever have a treat for you! Step into the Tiny Home Village and explore an assortment of wonderfully small (but mighty!) homes. You'll have a chance to walk through the homes and discover all the sneaky space saving design features they have to offer. Designed and outfitted by Mint Tiny House Company, a locally owned, husband and wife-operated tiny home builder based in the Lower Mainland, these tiny homes might even have you reimagining your living situation.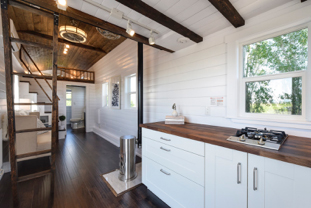 Where: Tiny Home Village, located next to the Main Stage
After exploring the Tiny Home Village, we have a little crate-ive DIY challenge you won't want to miss. Check out the Great Crate Challenge, presented by Rust-Oleum Consumer Brands Canada to see five of Vancouver's most stylish bloggers who we challenged to redesign a plain wooden crate and transform it into a unique home decor piece. When you stop by, don't forget to pick your favourite entry and learn more about your chance to win, as each crate creator will be giving away their piece to a lucky winner through their social feeds!
Where: Great Crate Challenge, located on level two in section 230.
Spring has Sprung
After taking in so much home renovation and design advice for inside your home, step outside and into the Feature Gardens. With more than 3,000 square feet of garden spaces to experience, you can find all the latest garden trends here. After taking a walk through these gardens you'll have no trouble planning your outdoor space for the upcoming season!
Where: Feature Gardens, located on the show floor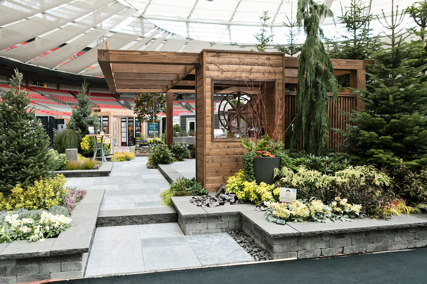 Once you've got a dose of garden inspiration, elevate your backyard by visiting Dining Alfresco designed by Jamie Banfield Design. Walk through four outdoor dining displays with varying styles from family friendly to modern chic to masculine and boho, you'll be sure to find a garden style that's right for your outdoor space!
Where: Dining Alfresco, located on level two in section 217
Need some advice to help your garden grow? We've gathered the Lower Mainland's top gardening experts for the Vancouver Sun Gardeners' School. With topics fit for every outdoor space ranging from urban gardens to edibles and everything in between, these experts will help inspire you to dig into your garden this season.
Where: Vancouver Sun Gardener's School, located on the show floor, among the dream gardens.
When: Vancouver Sun Gardener's School full stage schedule
The Experts Will See You Now! 
After seeing a couple of Main Stage presentations, getting some outdoor inspiration and visiting the Tiny Home Village we're sure you'll have some questions about how you can incorporate some of those ideas into your next home project. May it be landscaping, design or construction, we have an expert here to help at Ask an Expert presented by Cloverdale Paint, designed by Sarah Gallop Design, Landscaped by Swick's Organic Landscape. Come ready for a complimentary 10 – 15 minute consultation and they'll help get any project on the right track!
Where: Ask an Expert, located on the show floor, among the dream gardens.

Eat & Drink 
After a busy day exploring the show floor, it's about that time to stop by the Lounge to treat your taste buds and take a moment to chill out. Sit back and relax in this gorgeous space for a drink (or two) before heading over to catch a presentation on the Cooking Stage. With must-see local presenters heating up the Cooking Stage all weekend long, you might want to get comfortable and stay a while.
Where: The Lounge, located on the show floor, beside the Tiny Home Village.
Shop 
After experiencing all this home and design inspiration you might be wondering how you can take home a little something with you today. Stop by M(art)ket and pick out a one-of a kind photo, print or canvas from some of the best local artists. Another shopping hub at the show you want to make sure to plan time for is Portobello West! From textiles to jewelry and candles, discover up and coming local artisans and we're sure you'll find at least one (or two) fun things to bring home.
Where: Portobello West is located on level two between sections 239 and 244. M(art)ket is located between sections 227 and 229.
Share 
With so much to do and see and do over five days, don't forget to share some of your favourite moments from the show on social media using #BCHGS18 so we can see your snaps! Follow along for all the BC Home + Garden Show fun on Twitter and Instagram.
BC PLACE STADIUM
FEBRUARY 21-15, 2018.
Source: https://bchomeandgardenshow.com